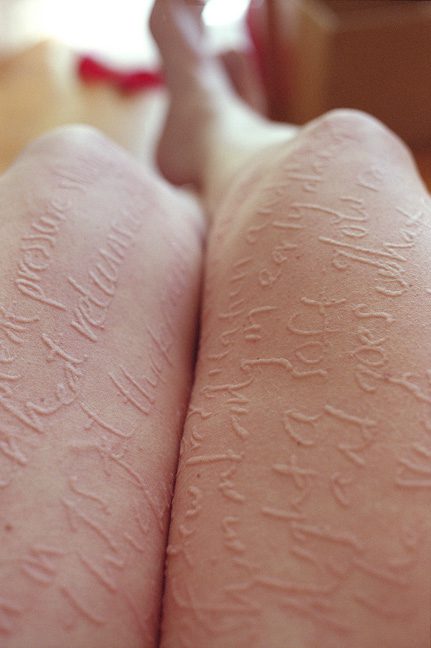 Ariana Page Russell is an artist, creativity coach, and founder of the Skintome movement. She has taken her skin condition dermatographia and used it as a means of inspiration, connectivity, and purpose.
Dermatographia is a condition that hyper-sensitizes the skin to touch, stress, diet, and chemicals. Something that in the eyes of many may be deemed as a weakness she has turned into a source of power to live her life with a heightened sense of consciousness and expression.
From highly acclaimed art exhibits and awareness campaigns, to being the voice for dermatographia, Ariana has tapped into a world that has people all over the globe shedding their individual shame and uniting in the many differences that make them unique. This movement has gone far beyond being a uniting force for those affected by dermatographia-Ariana has ignited a call for freedom in the way we think, eat, live, create, relate to  and express ourselves.
Ariana has exhibited internationally and currently resides in Los Angeles, California. Recent exhibitions include the Royal Hibernian Academy in Dublin; Magnan Metz in New York City; Platform Gallery in Seattle; Town Hall Gallery in Australia; the Luminato Festival in Toronto, Canada; Adelphi University in New York; and Museo de Arte Contemporáneo in Bolivia. Her work has appeared in Art in America, the Huffington Post, Wired, The Atlantic, VISION Magazine: China, and the monograph 'Dressing' published by Decode Books. She was featured on ABC News 20/20 and was a recent participant in the Sexto Encuentro Mundial de Arte Corporal in Caracas, Venezuela. She received her MFA from the University of Washington, Seattle in 2005.
Ariana can be reached at: arianapage @ gmail . com
Here is the ABC News 20/20 video about Ariana and her work.  It's from 2008, so is a little out of date, but it's still relevant :)
All art on Skintome by Ariana Page Russell, unless otherwise noted.  Above image: Index, c-print, 23 x 17″, 2005 from Skin
You may view the Terms of Use and Disclaimer here.